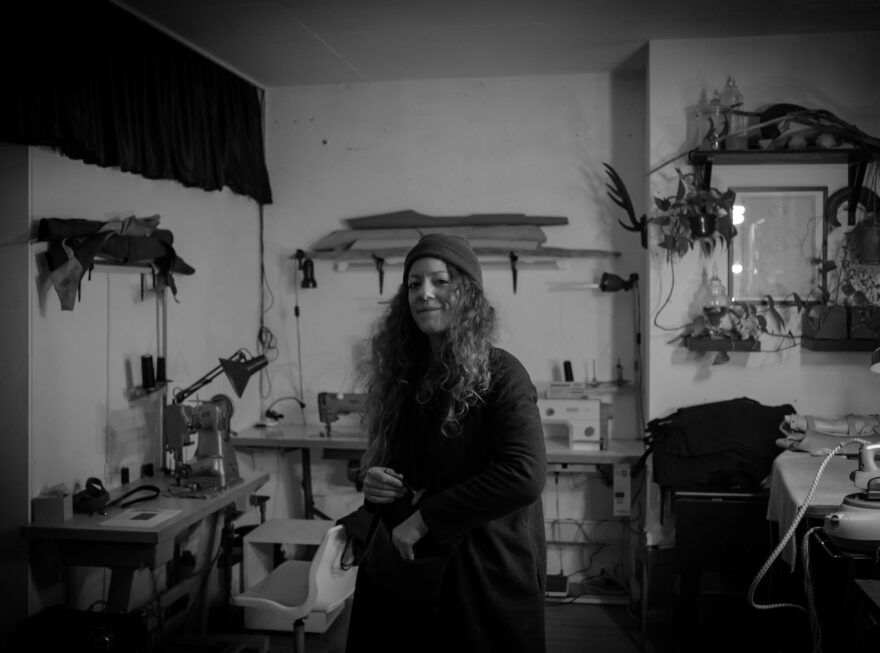 FUNCTIONAL MINIMALISM FOR URBAN NOMADS
"I create all season accessory and sometimes clothing collections for urban nomads.
Although I am always guided by the vision of a complete look and mood,
I prefer to get lost in ONE specific item and perfect it,
making it something that outlasts the one-season rhythm of today's fashion industry.
To define the values of my work, since they are so opposite, the easiest way is to divide them into 3 ideological groups, defined like 3 perceptions of time."
THE PAST
tradition and handcraft
The tradition in leather craftsmanship, the handwork and the time dedicated to each object give it value and make it more than just an object. It begins to tell a story and becomes a work of art. I follow the same idea when choosing leather. I love living surfaces and imperfections like scars and skin wrinkles. In my eyes, it is absolutely beautiful to see that it is/was a living being, a skin with a story, a full life that has already been lived. Even more beautiful is the fact that this skin gets a second life to be experienced by its future wearers in its new form. To continue aging, only to become more and more beautiful.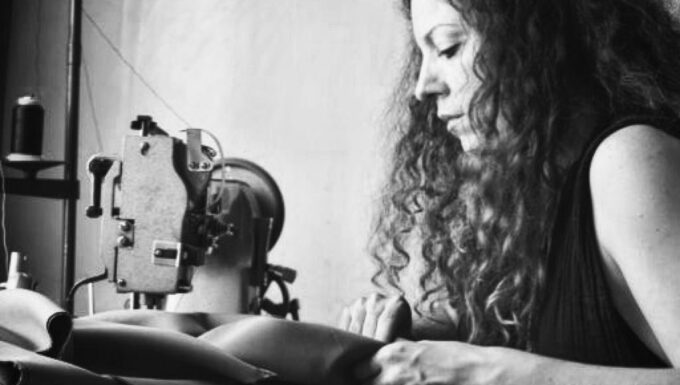 THE FUTURE
rethinking, reconstructing, being innovativ, embracing technology
On the level of construction, usability and new technology, it comes to a total contrast. Although I appreciate the old values and traditions, I am also attracted to innovation. Even though almost everything has been done before, I still believe that every new interpretation has its value and sometimes suddenly evolves into a mind-blowing idea. Our way of life, or let's say our lifestyle, has changed a lot in the last centuries and years. And with that, our needs and the use of clothing and accessories have also changed. The main focus in the process is to reflect on the construction of a product, deconstruct it and reassemble it. In the process, clothing and/or accessories often merge to create hybrids that increase comfort and thus enhance the body. Behind the minimalist and geometric design, there is always a playful usability. Nature and geometry are a constant inspiration for construction and shapes. New media and technologies fascinate me as much as the mysteries of the past. That's why I love mixing these natural surfaces with technical textiles. In the same way of bringing contrasts together, I mix old and new media in visual representation. Nature versus technology, past versus future. Apparent opposites collide in the design process to form a futuristic aesthetic. The result has a concise, urban, clean and avant-garde look.
TIMELESSNESS
Objects built upon thoughts of a constant truth to be found in numbers and geometry
Underneath all these layers, there is one timeless constant – the number and its geometric shape. Just as the Pythagorean philosophers believed that numbers are the elements of all beings and the universe as a whole is made up of harmony and numbers, I draw on this view in every single design process.
DE
Unter dem Namen MDK heckt die Modedesignerin Miranda Kaloudis zeitlose Kleidung und Accessoires auf höchstem ästhetischen Anspruch und voller Funktionalität aus.
So sind die Produkte vom Zürcher Independent Fashion-Label stets durchdacht basierend auf dem Prinzip von Auseinandernehmen und Neu-Zusammensetzen. Die neue Zusammenstellung bekannter Elemente führt zu innovativen Handhabungsmethoden der Produkte.
Die vielseitig einsetzbaren Begleiter sind aus den Bedürfnissen, die ein abwechslungsreicher Alltag eines modernen Stadtnomaden mit sich bringt, entsprungen. Komplexe Multifunktion wird mit avantgardistischem Ausdruck kombiniert.
Ausdruck, welcher weit über die reine Funktions-Ästhetik hinaus geht. Die spielerische Handhabung ist in eine klare, geometrische Formsprache eingebettet.
Neben den zukunftsorientierten Konstruktionen wird Innovation im Bereich der Materialien angestrebt. Technische, wasserfeste Materialien treffen auf hochwertige Naturfasern und Leder. Natur versus Technik, Vergangenheit versus Zukunft: Scheinbare Gegensätze stossen während des Designprozesses stetig aufeinander und verschmelzen letztendlich zu einer neuartigen, futuristischen Ästhetik. Das Resultat ist ein prägnanter, urbaner, und avantgardistischer Look.
Die Produkte von MDK – Miranda Kaloudis werden von Miranda eigenhändig in ihrem Atelier in der Binz in Zürich, vom Schnitt bis hin zu dem 3dimensionalen Prototypen entwickelt. Die Modelle werden schliesslich aus hochqualitativen Europäischen Ledern nachhaltig und fair in einem Kleinbetrieb in Bosnien & Herzegowina produziert. Alle verwendeten Materialien werden von der Designerin selber ausschliesslich aus Europäischen Betrieben beschafft um so eine transparente Wertschöpfungskette zu gewährleisten.
EN
Under the name MDK, fashion designer Miranda Kaloudis creates timeless clothing and accessories with the highest aesthetic standards and full functionality.
Thus, the products of the Zurich independent fashion label are always thought out based on the principle of disassembly and reassembly.
The new composition of familiar elements leads to innovative methods of handling the products. The versatile companions are born from the needs that a varied everyday life of a modern urban nomad brings with it. Complex multifunction is combined with avant-garde expression. Expression which goes far beyond pure functional aesthetics.
The playful handling is embedded in a clear, geometric design language.
In addition to the future-oriented designs, innovation in the area of materials is strived for. Technical, waterproof materials meet high-quality natural fibers and leather. Nature versus technology, past versus future: apparent opposites constantly collide during the design process and ultimately merge into a new kind of futuristic aesthetic. The result is a concise, urban, and avant-garde look.
The products of MDK – Miranda Kaloudis are developed by Miranda herself in her studio in Zurich, from the cut to the 3dimensional prototype. The models are finally produced from high quality European leathers sustainably and fairly in a small business in Bosnia & Herzegovina. All materials used are sourced by the designer herself exclusively from European companies to ensure a transparent value chain.